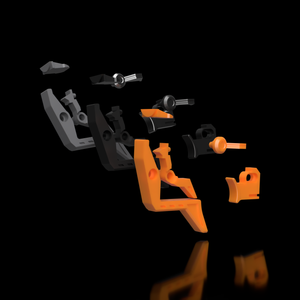 Our Bits Kit for the MKIII includes:

Mag Release
Adapter Release
Selector Switch
"Bobo" Rev Trigger
Adapter Slip (Intended to be glued in, glue not provided)


Our Mag Release brings the paddle closer to your grip hand on the MKIII while the Adapter Release is minimized to reduce accidental drops.  Our Selector Switch is higher than the stock one to help you flip between modes.  We include and adapter slip to mitigate jamming issues...and yes, Bobo personally decided on the rev trigger.  He's very proud of it.